An historic City with a green future
Monaco and its surrounding area is a stunning place for cycling. Your journey starts in the intense city vibe and in less than 30 minutes (cycling) you are out on the quiet, secluded roads and enjoying the fantastic scenery of France or Italy. Monaco and the area around is one of the few places in Europe where you can cycle the whole year around.
As Monaco is very close to Italy, much of a time is spent exploring there and the bike path that runs alongside the coast between San Remo to Imperia is fantastic. This is where the first stage of Giro d'Italia was held in 2015. Poggio and Cipressa are the two final climbs in the spring classic Milano-san Remo.
The mountain bike routes around Monaco have also shaped many a champion, Nico Vouilloz and Fabien Barel just to name a couple. The mountain bike trails are varied from beginner level to very challenging levels, with our favorite route being either Col de Turini and Via del Sale.
Amazing Scenery
You will be dazzled and amazed at every turn! From the historic old town to the stately Prince's Palace and the famous Place du Casino, discover the Principality through the many walks, green cycle routes and picturesque gardens. Every step you take, or indeed stroke of the pedal, you are rewarded with enchanting sites and stunning views as Monaco's rich history and natural beauty unfolds before you.
Within minutes of leaving the centre of the principality you can cycle some amazing flatter coastal routes that wind their way along the Riviera, or for the more adventurous you can venture into the hills for the stunning views and conquer the steep mountainous climbs and passes. As you pedal your way through the mountains, gorges and medieval villages you'll come across local produce such as olives, grapes, figs and lemons – some on farmland, much of it growing wild.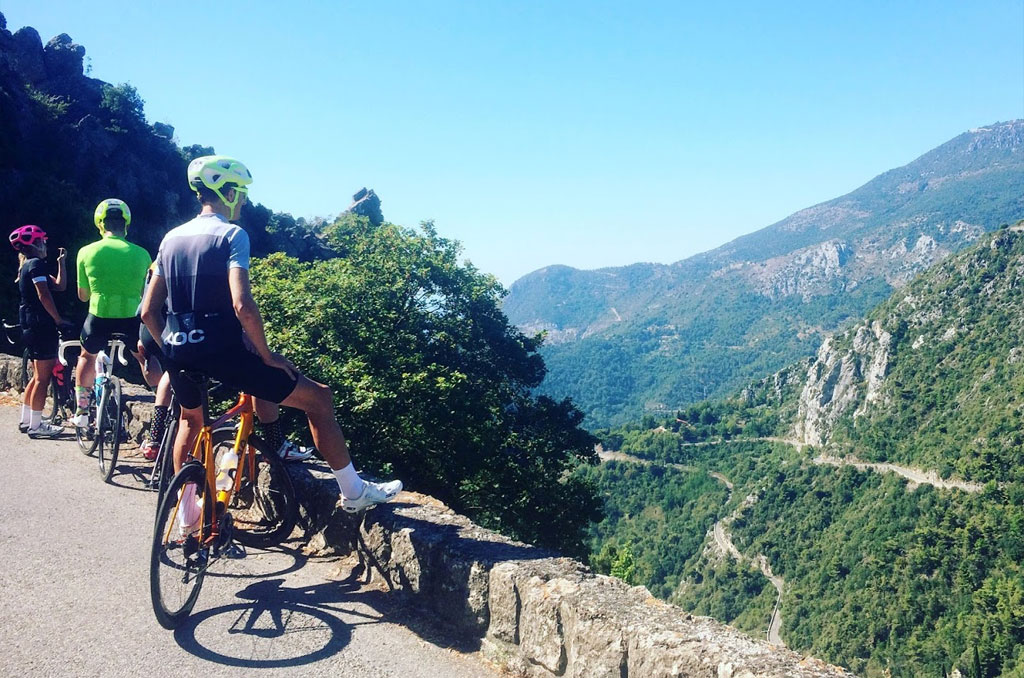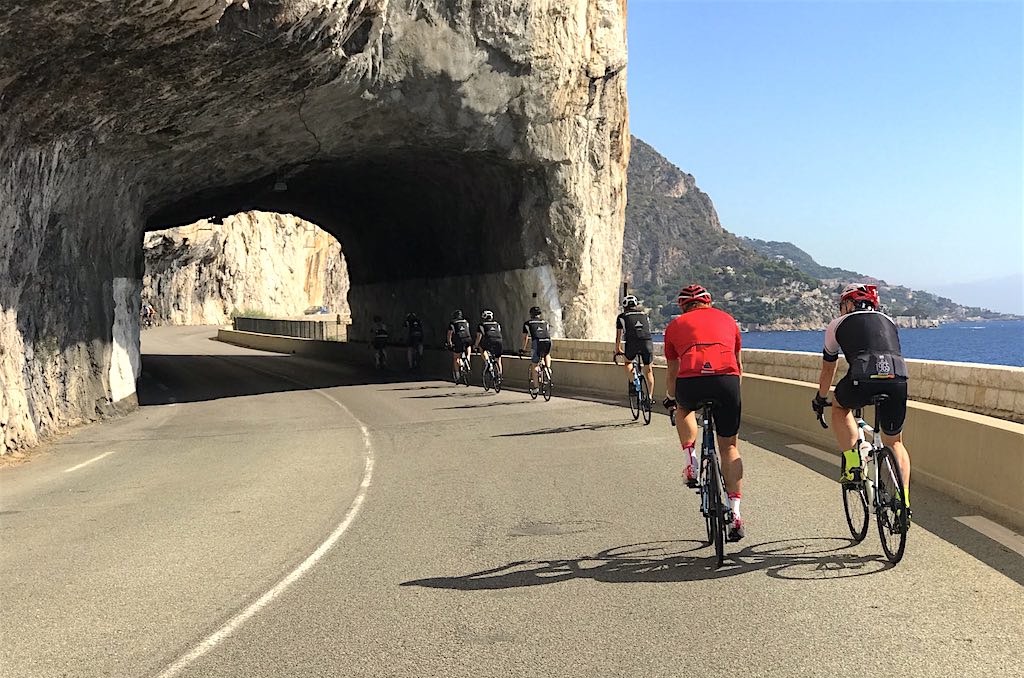 Environmentally Friendly
As we enter a more environmentally conscientious future, the same roads that once made those racing heroes are now being taken over by a different champion of the road: Formula One champions, F1 team owners, Olympic and world class cycling champions are all swapping their marques for cycles and falling in love with the twists and turns of this amazing landscape......
You can not get much greener than this, it's a complete hit on all the senses: stunning views, quiet surroundings, the smell of fresh air, the fragrant scents of lavender, eucalyptus and pine on the breeze, and the amazing feeling of being an integral part of this beautiful countryside. On top of this consider the health issues and you won't want to do anything else in your spare time.
Watch Chris Froome and Nico Rosberg cycle around Monaco.
Great for Health and Fitness
Velo Monaco actively promotes and creates awareness of the benefits of cycling not just from a health and fitness perspective but also for the green environment in and around Monaco.
We want you to get out on your bikes to get fit and healthy, and to enjoy the beautiful surroundings that the Monaco area has to offer. Monaco offers a safer environment out on the roads for both riders commuting back and forth to work, as well as those that cycle for pleasure or sport. It's time to get on the bike and discover for yourself the benefits of cycling and what better place to begin your journey than Monaco.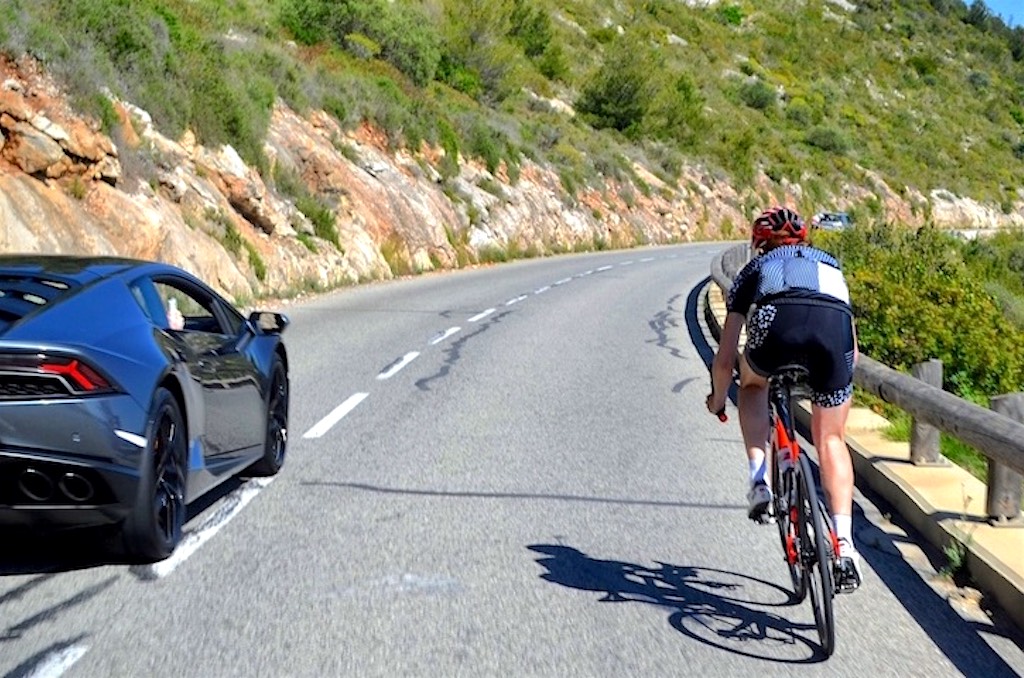 Suitable for Everyone
Whether you cycle for sport or just want to take your time, Monaco can offer it all.
Make Monaco Your Next Cycling Adventure
Hopefully we have given you a flavour of the cycling around Monaco but please contact us to help us put the right package together for you and your friends.
We can ride towards Antibes and pass the famous Promenade des Anglais with the new designed bike path. And from there enjoy and of the beautiful climbs of the area Col de Braus. Col de Turini, Col de la Madone, Col de Vence just to name a few. And in less than an hour by helicopter you can immerse yourself in the beauty of Mount Ventoux.
Or how about joining us for an electric mountain bike day experience to Via del Sale whilst based in Monaco.
The cycling is varied so will suit anyone from the beginner to world champs cyclists. We also welcome non-cycling companions, and family too.
This is just a sample of the things that we could put together for you, but please talk to us about your preferences and we can put an experience together for you and your friends that you will never forget.