Drink in the Barolo countryside
Barolo and the magnificent countryside in the northern Italian region of Piedmont is where the famous Barolo red wine is produced. The Barolo Hills, with their mysteriously perfect micro-climate, are dominated by historical houses and manors, hill-top villages and, of course, the rhythmic geometry of the vineyards themselves.
Barolo is a red Denominazione di Origine Controllata e Garantita (DOCG) wine produced in the northern Italian region of Piedmont. It is made from the Nebbiolo grape and is often described as one of Italy's greatest wines.
The wines are rich and full-bodied and are often compared to the great Pinot Noirs of Burgundy, due to their light brick-garnet pigments and bright acidity.
The best way to explore the different wine areas is by bike. The atmospheric and fascinating landscapes of the Bassa Langa, are where the world-famous Langa wines are produced.
And the area is perfect for a relaxed cycling holiday, with its rolling hills that welcome you to this wonderful region of Italy.
Amazing Scenery
In the heart of the Langhe hills, placed on a sort of plateau lies the tranquil village of Barolo. The area mainly consists of gentle undulating hills, where you will find rows of vines, houses of historical and artistic importance, as well as pretty villages and imposing medieval castles.
The area is typically Italian with their rustic cuisine, friendly locals and most important for us the cyclist, quiet roads.
Among the main tourist attractions is the castle of the Marquis Falletti, and the Castle of Grinzane Cavour.  All worth a visit prior to the obligatory wine tasting.
Best cycling period is between May and the end of October.
.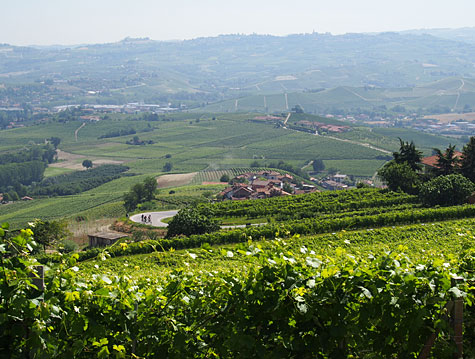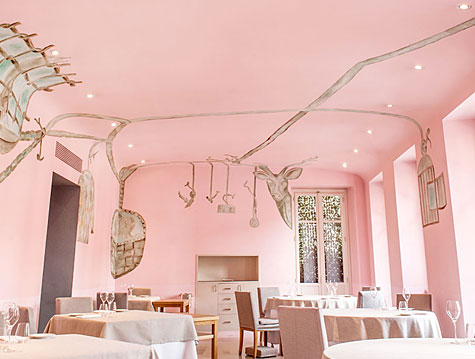 A Gourmet experience
The hotel's restaurant is highly recommended and their use of local produce and ingredients delights the most discerning guests.
For a real treat, we suggest our guests to spend their last evening dining at the 3 star Michelin restaurant in Alba, Piazza Duomo. This is where the chef Enrico Crippa who is also a keen cyclist, creates stunning modern Italian dishes using produce from his own farm.
The setting is just as stunning; the dining room is entirely pink with a fresco painted by Neapolitan artist Francesco Clemente, depicting grape vines and images inspired by the local landscape.
Great for Health and Fitness
Velo Monaco actively promotes and creates awareness of the benefits of cycling not just from a health and fitness perspective but also for the green environment.
We want you to get out on your bikes to get fit and healthy, and to enjoy the beautiful surroundings that our area around Monaco and also that of the other areas we cycle have to offer.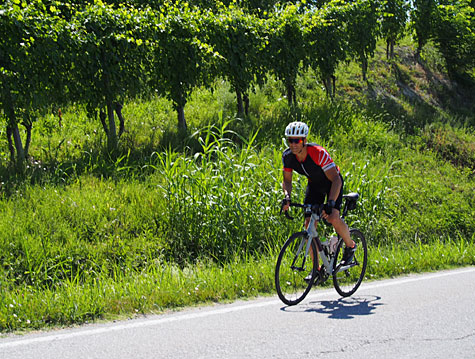 Suitable for Everyone
Whether you cycle for sport or just want to take your time, cycling the Barolo has to be right up there.
Make the Barolo Hills Your Next Cycling Adventure
Hopefully we have given you a flavour of cycling the Barolo region of Italy but please contact us to help us put the right package together for you and your friends.
Below is a suggested itinerary of a trip that we could put together for you, however we will tailor everything according to your budget and time available.
The cycling is varied so will suit anyone from the beginner to world champs cyclists.
To begin your holiday experience we suggest flying into to Nice where you can spend some days with us in and around Monaco. We could possibly then combine this with an electric mountainbike day at Via del sale or Col de Turini. And then cycle the bike path back from San Remo to Imperia, where our cars will be waiting for you to take you the 2 hour journey to our biologic vineyard in Barolo.
Normally we stay at this newly renovated biologic vineyard comprising just 12 rooms. As mentioned the restaurant is highly recommended, with mostly local produced ingredients on the menu. It also has both an indoor and outdoor pool and the spa area is set in the original old wine cellar. It is the perfect place to recovery and fully re-charge your batteries.
Depending on how many days you decide to spend cycling in the region, we will plan to visit Barolo village itself, Barbaresco where Gaja are sited (one of Italy's finest wineries),  La Morra, Dogliani,  Serravalle Langhe, the area of the Langa where the low and high parts meet and typically an area of hazelnut cultivation.
From here we will pass back into wine country in the direction of Sinio, a low-lying village dominated by a medieval castle. Another even more magnificent medieval castle can be admired in the next village, Serralunga d'Alba, and from here the route continues to Grinzane Cavour. However, we should not miss a visit to the Castle of Grinzane Cavour, where the Regional Enoteca and the Ethnographic Museum are situated, and where every year in mid November the world famous White Truffle Auction is held.
For a real treat, we suggest last dinner at the 3 star michelin restaurant in Alba, Piazza Duomo. Where the chef Enrico Crippa is a keen cyclist and is happy to welcome you.
If you already have booked accommodation in the area, then we are happy to just provide you with the cycling guide, a following car and rental bikes if you need them.
This is just a sample of the things that we could put together for you, but please talk to us about your preferences and we can put an experience together for you and your friends that you will never forget.