Explore Lake Como by Bike
Cycling at Lake Como brings with it the stunning lake views that you see here and many historical villages along the edge of the water. Lake Como is where both James Bond Casino Royale and Ocean's twelve was filmed and maybe best known for George Clooney's summer house Villa Oleandra in Laglio. The famous Giro di Lombardia, the final classic professional race of the year, is set on the roads around Lake Como.
The area around Lake Como doesn't always have to be challenging and we can adapt the rides according to your experience and mood. However if you are up for a little more challenging ride, then the area can offer the best. You will never be disappointed in Lake Como whatever your level.
Malpensa airport, one of Italy's biggest airports, is close by and caters for international flights. Villa d'Este have their own private helicopter pad, if you want that extra touch of luxury.
Amazing Scenery
A favourite ride of ours is to cross the lake by ferry from Cadenabbia to Belaggio, and then from Belaggio you can take the climb up to Madonna del Ghisallo. At the top there is a church dedicated for cyclists. The scenery is breathtaking.
Another of our favourite rides is that from Lake Como to ride to Lake Lugano. Ride alongside two beautiful lakes crossing in to two different countries. Flat and easy riding around the lakes with challenging climbs with stunning scenery all around you.
The roads we cycle in the area are in fact the same as those of the famous Giro di Lombardia, the autumn classic professional race.
The best time of the year for cycling Lake Como and it's surrounding area is May to September.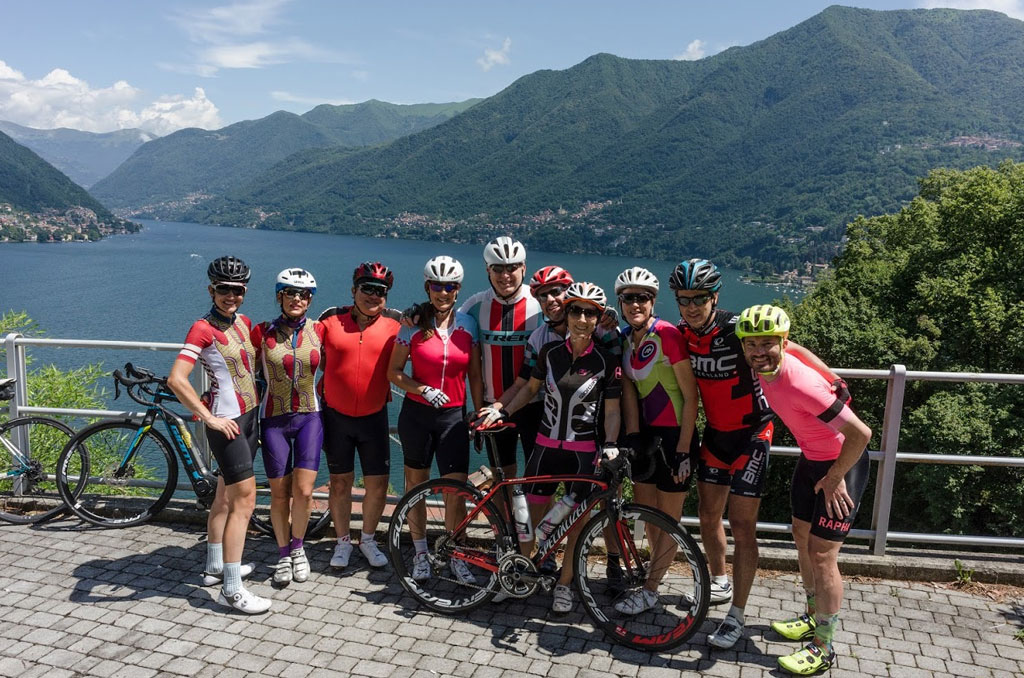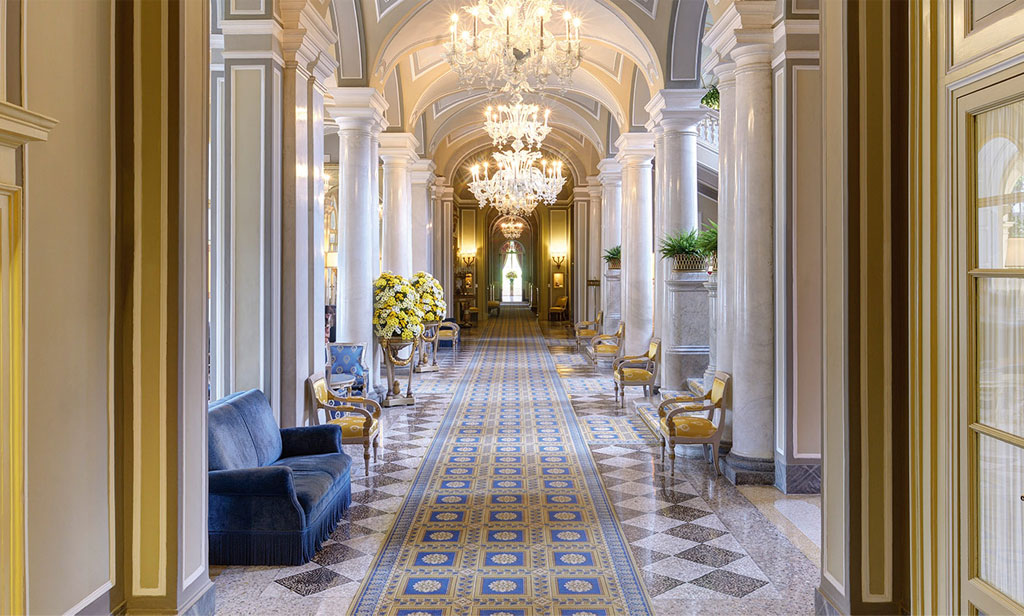 Hidden Gems
Our favourite place to stay at Lake Como is Villa d'Este, one of Italy's finest 5 star hotels in Lake Como.
Set on the banks of one of the most romantic lakes in the world and just north of Milan, Villa d'Este was built in 1568 as the summer residence of Cardinal Tolomeo Gallio, and has been the favourite playground of an Empress, English queen and various aristocrats in its time.
It was transformed into a luxury hotel in 1873 and continuously renovated and updated, without sacrificing any of its old-world charm, to what it is today boasting 152 luxurious rooms. 25 acres of gardens surround the hotel and whose statues and landscape have been photographed for centuries.
Great for Health and Fitness
Velo Monaco actively promotes and creates awareness of the benefits of cycling not just from a health and fitness perspective but also for the green environment.
We want you to get out on your bikes to get fit and healthy, and to enjoy the beautiful surroundings that our area around Monaco and also that of the other areas we cycle have to offer.
Suitable for Everyone
Whether you cycle for sport or just want to take your time, cycling around Lake Como has to be right up there.
Make Lake Como Your Next Cycling Adventure
Hopefully we have given you a flavour of cycling Lake Como and the surrounding area but please contact us to help us put the right package together for you and your friends.
Below is a suggested itinerary of a trip that we could put together for you, however we will tailor everything according to your budget and time available.
The cycling is varied so will suit anyone from the beginner to world champs cyclists.  On hand at all times will be our mechanic who will unpack your bikes and make them ready for each day's ride.
We will welcome you at Milano airport and to take you either to Villa d'Este or Hotel Villa Flori at Lake Como.
As a potential idea you could arrange your holiday so that it coincides with The Concorso d'Eleganza at Villa d'Este which is one of the glitziest and most prestigious events in the motoring calendar. Running on and off since 1929, the Concorso d'Eleganza event is a mix of the most prestigious new and indeed classic cars. Revving engines, helicopters overhead, speedboats blistering past and the smell of petrol are all part of the experience for the fortunate automotive glitterati out there.
We suggest that the first ride will be to acclimatise you to this beautiful and amazing region. We can ride towards Menaggio and climb over the mountains to Switzerland and then cycle to the Concept store of Assos, right in center of Lugano. The road to Lake Lugano from Lake Como was one of our all-time favorite roads. A lunchtime stop by the side of a lake is a must. We suggest a day out exploring the wine cave Cantina Follie, a small hidden secret next to Grand Hotel Tremezzo.  It will allow you also to take in the beauty of Belaggio and Ghisallo. On the way back we will take the ferry from Belaggio to Cadenabbia, a perfect ride down the other side of the lake.
If you already have booked accommodation in the area, then we are happy to just provide you with the cycling guide, a following car and rental bikes if you need them.
This is just a sample of the things that we could put together for you, but please talk to us about your preferences and we can put an experience together for you and your friends that you will never forget.