The most beautiful mountains in the World
The Dolomites, are also known as the 'Pale Mountains' and take their name from the carbonate rock dolomite. A number of long-distance footpaths called alte vie (high paths) traverse the Dolomites. These are numbered from 1 to 8. The trails take around a week to walk, and are served by numerous rifugi (huts).
The Maratona dles Dolomites, an annual single-day road bicycle sportive covering 7 mountain passes, occurs in the first week of July. The roads are closed to cars and all the locals get behind you and cheer you on from the side of the road.  This has to be the only Sportive that hands out fresh espresso as you pass the feeding zone.
You will never tire of the surroundings or the mountains here. There are multiple famous passes in the area to ride and explore,and also great terrain to enjoy some mountain biking.
The Dolomites are a great place for whole family groups including the non-cycling members of the party too. There are activities all around the area that will suit everyone, so while part of the family are enjoying an invigorating cycle ride with us, then the others can try their hand at something new or something more relaxing.
If you are planning an action-packed holiday, then you have come to the right place, and we would be more than happy to help you to tailor a package just for your family.
Amazing Scenery
Late summer and the start of Autumn in particular is when the Dolomites are truly at their best.
The alpine pastures and forest take on atmospheric hues, and nature itself provides us with a unique interplay of light and shadow, and then in the evenings the rock formations glow in warm shades of red.
The Dolomites were once described by Le Corbusier, the Swiss-French architect, designer, painter, urban planner, and writer, as the most beautiful mountain range in the world.
The best period to cycle in the Dolomites on either road or mountain bikes is between May and October.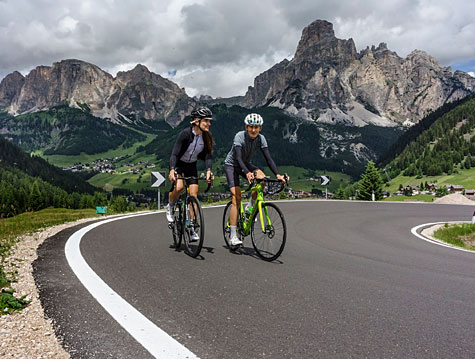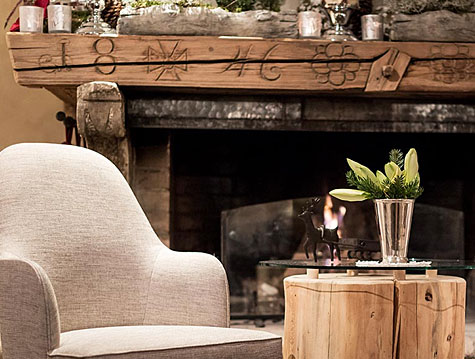 Hidden Gems
Our favourite accommodation in the Dolomites is the Rosa Alpina Hotel & Spa based in San Cassiano in the heart of Alta Badia. Rosa Alpina's restaurant 'St Hubertus' has been awarded a 3rd Michelin star for 2018.
South Tyrol may only be a small region of Italy, near the Austrian border, but twenty-one of its restaurants have managed to achieve twenty-six Michelin stars. This makes it one of the most competitive culinary hotspots in Europe. Rosa Alpina
Chef Norbert Niederkofler selects only the highest quality ingredients found on his doorstep, from wild game to mountain herbs, to create dishes in 'a light Mediterranean way'. The food which St Hubertus is globally renowned, perfectly embodies Norbert's dedication to nature and quality, achieve feats of culinary technique and innovation which are entirely respectful of the ingredients.
Great for Health and Fitness
Velo Monaco actively promotes and creates awareness of the benefits of cycling not just from a health and fitness perspective but also for the green environment.
Our electric road bikes provide the best of all worlds: Use the battery wisely by managing the different power modes and resist the temptation to fly off into the distance with turbo mode too often. Eco mode gives a gentle push while lasting much longer.
But don't think it will be that easy, if you don't manage your battery use sensibly, you could run out of steam or indeed in this case battery power.
All in all you will feel better for it at the end of the day, healthier and very content with life.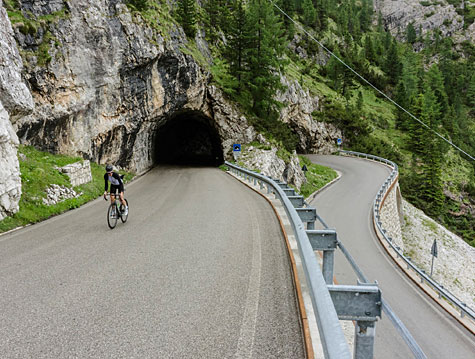 Suitable for Everyone
Whether you cycle for sport or just want to take your time, cycling the Dolomites has to be the pinnacle of riding.
Make the Dolomites Your Next Cycling Adventure
Hopefully we have given you a flavour of cycling the Dolomites but please contact us to help us put the right package together for you and your friends.
Below is a suggested itinerary of a trip that we could put together for you, however we will tailor everything according to your budget and time available.
We usually like to combine cycling n the Dolomites with our Passo dello Stelvio tour and/or St. Moritz.
There are multiple famous passes in the area: Passo Campolongo at 1875 m, Passo Pordoi at 2239m, Passo Gardena at 1871m, Passo Giau at 2236, Passo Falzarego Pass at 2117m, Passo Valparola at 2200m, just to name a few. And all in a very convenient distance from your accommodation.
Accommodation we recommend and depending on budget would be Rosa Alpina, based in San Cassiano in the heart of Alta Badia. Dinner at the 3 Michelin star St Hubertus restaurant is an experience – think pasta dishes such as Stuffed ravioli with chard and mains including Local suckling pig's head with cucumber and flowers, and sweet and sour vegetables.
Three things you should know about the St Hubertus
The restaurant takes its name from the Christian patron saint of hunters.
Before dinner commences, chef Norbert Niederkofler invites his guests to join him in the kitchen for a special aperitivo of sliced prosciutto and Prosecco.
Not only does the restaurant offer the 'Chef Experience', but you can take the St. Hubertus cooking lesson, preparing a five-course menu alongside the head chef.
To do the full experience we would meet you at Milano airport and begin with a few days at Lake Como.  Then we would cycle towards St. Moritz where we would stay a night before heading to the Passo dello Stelvio, and then finishing in the Dolomites.
Alternatively there are direct flights from Nice to Venice if you would like to enjoy the beauty of Monaco and the French Riviera, and then the Italian Alps in Alto Adige.  A flavour of two very different areas.
We can arrange road bikes and all necessary equipment if required and arrange for all your transport.  All that is needed to create an unforgettable day for you and your friends.
This is just a sample of the things that we could put together for you, but please talk to us about your preferences and we can put an experience together for you and your friends that you will never forget.