The most beautiful mountains in the World
Veronica at Vélo Monaco welcomes to a amazing days with a sober mix of cycling, hiking and gourmet treat
Vélo Monaco has built a reputation for providing some of the best private and corporate cycling events available.
Our primary goal is to encourage people onto their bikes to get healthy, and in doing so also create a greener environment to do it in.
We wants to welcome Ineos to Europe most beautiful sportive – Maratona dles Dolomites- Enel in the Dolomites. A perfect friends challenge or an Ineos event challenge.
Veronica & Gustav can both take part together with you and help out if puncture or just with general support. Vélo Monaco is guaranteed entries for the Maratona, that is normally very hard to receive.
We are planning to be with a full service crew for you, also Gustav Larsson will be part most of the days. So you will riding together with Olympic & World Championship silver medalist and with numerous of international pro victories.
Our professional sport therapist & mechanic will also be there daily for you.
On the hiking and climbing you will always be supported by a professional certified guide from the area (who speaks good english). And for the rides we will be minimum 2 cycling guides always by your side, together with a following car behind the cycling group.
And we will take care of your daily sport laundry, with pick up and delivery to your door.
Great for Health and Fitness
Here below is just a suggestion of a plan, all is possible to change after your wishes
Wednesday, July 3rd We suggest you to arrive at St. Moritz airport. There will be a car or helicopter waiting to bring the group the last 76 km | 47 mi to Bormio. This is a beautiful road to cycle and we are happy to cycle it all or part of it, if any interests from the group.
In Bormio all your luggage is waiting at the Hotel and a table for the dinner is booked at the The Ristorante Al Filo with a very short walk from the hotel.
Benvenuto in Italia
I know Sir Jim Ratcliffe already done the Passo dello Stelvio once on the bike. If preferable, we can start with meeting up Thursday, July 4th at Bolzano airport. There will be a car or helicopter waiting to bring the group the last 75 km | 46.6 mi to Hotel Rosa Alpina & Spa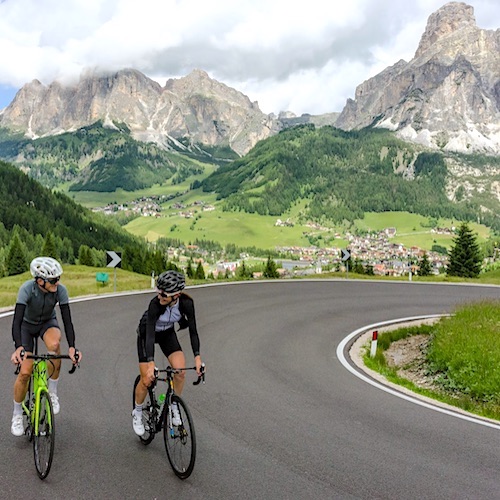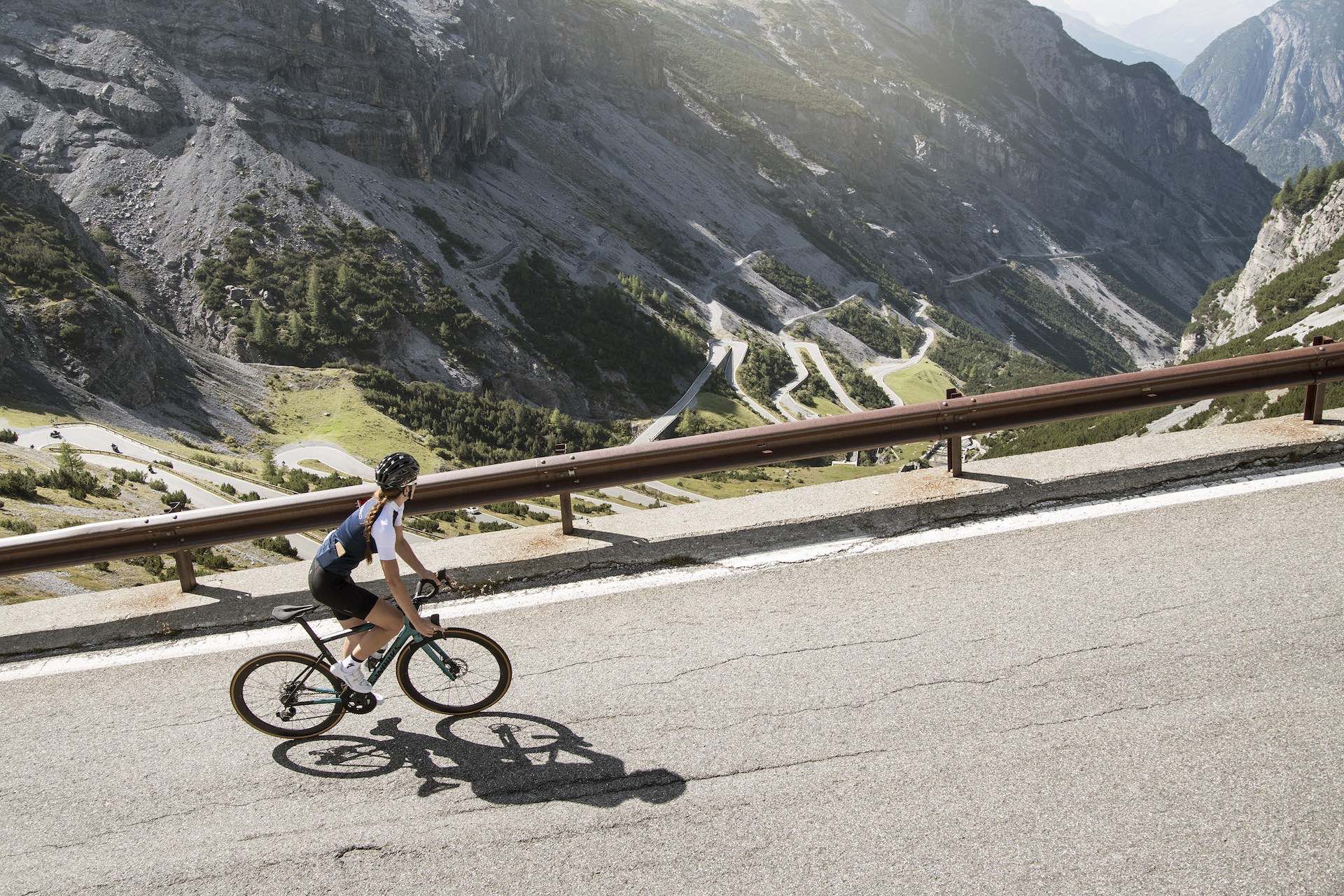 Passo dello Stelvio
One of the most epic climbs in Europe with a summit up at 2757 m. Stand at the top of the Pass and you are rewarded with the most amazing and heart-stopping view. See how the road below you winds its way around the mountains, no wonder it was voted as the greatest driving road in the world by the automobile show Top Gear
Thursday, July 4th Today we will do something that are many riders dream, climb the Passo dello Stelvio 2757 m. It is a climb of total 22 km.
Our Hotel is just 5 km from the start of the climb. On the top we stop for a very well deserved lunch. Where we have the lunch is also showers reserved, so you can change for some dry and warm clothes. It could be rain, snow or just great sunny on the ride.
Whatever weather it is, we got all extra clothing in the car and the car is just behind us.
After lunch and when everyone feel ready, we jump in the cars and drive down on the other side from what you just did climb and to the accommodation in the Dolomites, the luxury 5 star Rosa Alpina Hotel & Spa. It is approximately a 3 hours drive. The room included at Rosa Alpina is a Junior suite, Suite or Loft Suite, depending of the guests preference. Also possible to combine two Loft Suites with a connection door, perfect for a family stay
Luxurious accommodation
South Tyrol may only be a small region of Italy, near the Austrian border, but twenty-one of its restaurants have managed to achieve twenty-six Michelin stars. This makes it one of the most competitive culinary hotspots in Europe
Friday, July 5th We start the day with a ride in the area and you will get a small taste of the beautiful climbs that you will be enjoy on Sunday. We will see the startarea and the finish area, together with the second loop in the Maratona dles Dolomites, where we also have the option to test Passo Giau for the ones that want that. The second loop includes:
We will start with Passo Campolongo, that is also the start in the Maratona dles Dolomites. After a gentle downhill we stop for a quick bite like a espresso and apfelstrudel and then we continue towards Passo Falzarego and Passo Valparola.
That is also the climbs that Fausto Coppi defeated Gino Bartali in the 1946 Giro.
In the evening you'll then be treated a stunning 6-course tasting menu, at Rosa Alpina's restaurant 'St Hubertus'
Chef Norbert Niederkofler selects only the highest quality ingredients found on his doorstep, from wild game to mountain herbs, to create dishes in 'a light Mediterranean way'. The food which St Hubertus is globally renowned, perfectly embodies nornert's dedication to nature and quality, achieve feats of culinary technique and innovation which are entirely respectful of the ingredients.
A real treat for all food lovers. You'll start with a gourmet aperitif in the library followed by a visit to the kitchens of the St Hubertus *** Michelin Restaurant and a personal meeting with the Chef. You'll then be treated to a stunning 6-course tasting menu. The dinner is booked Friday 5th July. (We can exclude this 6-course tasting menu if you prefer that)
.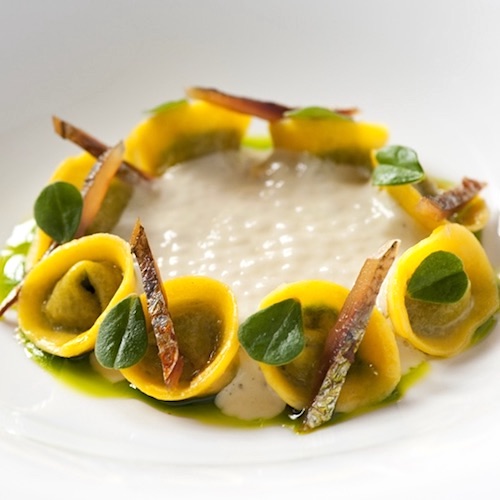 Amazing Scenery
The Dolomites are widely regarded as being among the most attractive mountain landscapes in the world. Maratona dles Dolomites are their biggest summer event with over 40 nations participating. And you cycle on closed roads, no cars are welcome the 7th July. The Maratona is knows to be the most beautiful Sportive in Europe
Saturday, July 6th D-Day is almost here! Today is a perfect day to totally unwind and just enjoy the enchanting Dolomites. Your bike will receive a final check-over from our mechanics and your event number fitted. Our Sport Therapist will take good care of your body and Gustav & Veronica will offer some final advice and strategy for a perfect event. Early dinner at the Hotel and early bedtime.
Sunday, July 7th The hotel will serve breakfast starting from 4am. Your bike will be ready waiting for you. The Hotel is situated with a perfect cycling distance to the Start and back later from the Finish. During the sportive you can choose which length you want to ride between 55 km(34mi), 106 km(66mi) & 138 km(86mi), so all up to todays feeling in the legs. Click here to see the courses profile.
After the sportive and when you feel done with the finish area, you roll down back to the Hotel for a refreshing shower and some serious carbs. Then let the celebrations begin with another pleasant dinner and stunning wines at the Hotel Restaurant where we will share our stories to end this memorable day.
Via Ferrata Activities
The Dolomites offers also one of the best hiking and climbing experiences. The breath taking pinnacles of the Dolomites have always been well known to hikers and climbers from all over the world
Monday, July 8th After yesterday beautiful challenge you will wake up with a big smile and hopefully not to tired muscles .
A number of long-distance footpaths called alte vie (high paths) traverse the Dolomites. These are numbered from 1 to 8. The trails take around a week to walk, and are served by numerous rifugi (huts).
Today you will explore a beautiful day hike together with our guide. For the more advanced hikers, we gladly arrange some amazing climbing together with certified guides.  And everyone will meet up together at the rifugi where the lunch is planned and where you will be treated with a the best local dishes from the area.
VIA FERRATA ACTIVITIES. The breath taking pinnacles of the Dolomites have always been well known to hikers and climbers from all over the world. During the First World War, the Italian and Austro-Hungarian armies fought against each other on the vertical walls of these wonderful mountains. In order to succeed, they had to fix iron ladders and wire cables to the rock, often under enemy fire. Today, many of these itineraries have been converted to recreational use and can be tackled by whoever wants to go a step further from hiking, towards the magical world of mountaineering. The World Famous Vie Ferrate ("iron routes")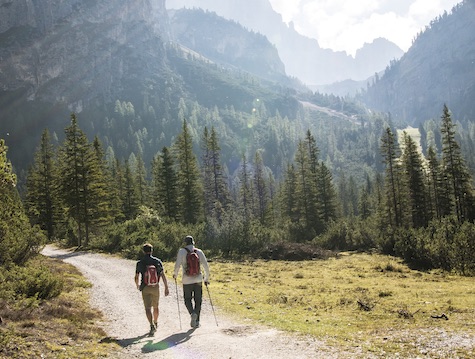 Tuesday, July 9th Enjoy your final Ladinian breakfast and, before we drive you back to the airport. Take a moment to contemplate these glorious mountains and what you have all accomplished these amazing days together.
Our goal is to create an unforgettable experience for everyone in the group – Specially for You
If you prefer to stay longer we are happy to arrange some more rides, or also include some mountainbike if you prefer some variety. To be able to come up with a price, I need to know for how many and which dates that are the preference.
We will of course bring material, bikes from your office in Monaco or adding more rental bikes if that is required.
Vélo Monaco arrange everything, the only thing Ineos have to arrange is the arrival and departure flights.
Suitable for Everyone
Whether you cycle for sport or just want to take your time, cycling in this region has to be the pinnacle of riding.