The most beautiful mountains in the World
Vélo Monaco welcomes to a amazing week with a sober mix of cycling, hiking and gourmet treat
Vélo Monaco has built a reputation for providing some of the best private and corporate cycling events available.
Our primary goal is to encourage people onto their bikes to get healthy, and in doing so also create a greener environment to do it in.
We are so happy for your request in September, let's plan it together so it will be a unforgettable adventure.
We are planning to be with a full service crew for you. And also my husband Gustav Larsson will be part some of the days. So you will riding together with Olympic & World Championship silver medalist and with numerous of international pro victories.
Profesional mechanic and Photographer will also be there daily for you.
On the hiking you will always be supported by a professional guide from the area. And for the rides we will be 2 to 3 cycling guides always by your side, together with a following car behind us.
And we will take care of your daily sport laundry, with pick up and delivery to your door.
Great for Health and Fitness
Here below is just a suggestion of a plan, all is possible to change after your wishes
Thursday, September 13th We suggest you to arrive at Milano airport. Sao Paulo to Milano/Malpensa has direct flights.
There is a possibility to arrange a private flight, Malpensa to St. Moritz with a King Air 200 for max 10 persons. It is a option and not included in the price. The car transfer to St. Moritz is approximate 3 hours and 185 km
The Crystal Hotel at the center of St. Moritz welcomes you to a two night stay. The room included in the price is a Junior Suite with breakfast. Always possible to upgrade, for additional fee.
In St Moritz there is plenty of options on the "must list". So there will be no problems to find a restaurant for all your different tastebuds.
Willkommen in der Schweiz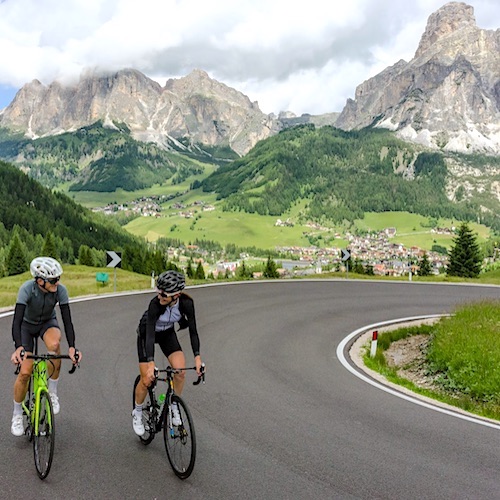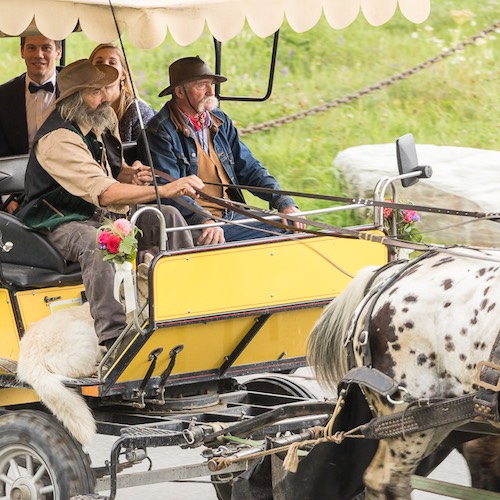 Hidden Gems
The first days will be beautiful with a mix in Switzerland with Hiking and Horse carriage in St. Moritz.
Friday, September 14th Our local hiking guide Ruedi that will be your guide for the day suggested this hike including Corvatsch, the highest cable car in the region:
We start with the cable car Corvatsch up to 3297 m to enjoy the great panorama, then we return by cable car to the middle station Murtèl where hike starts to Fuorcla Surlej 2753 m. At Fuorcla Surlej there is a hut where we can eat something before walking downhill to Restaurant Roseg. There is waiting a Horse carriage for you.
Total walking time is approximate 3 hours and there will be lunch stop at one of the hut's.
Saturday, September 15th You can't wait to jump on the bike and pedal in the lovely nature as this area is presenting. We leave St. Moritz with a big smile and turn towards Bormio. Today is just an easy ride, like an active warm up for tomorrow's lovely challenge. Here is the Strava profile, the correct altitude meters are around 600 m. After 59 km we will arrive in Livigno, where a lunch stop at La Baita is very welcoming. If some of you are up for a bit more challenging ride, we can split in two groups and the other group do this ride. A bit shorter in distance 44 km, but a bit more challenging with around 1000 altitude meters, see Strava profile. From Livigno we take the cars for the last 38 km to our destination of today, 4 star design Eden Hotel in Bormio. Livigno is a tax free zone, a good place to find time for shopping, if anyone request that. The accommodation included at eden Hotel is Junior Suite including breakfast and it is always possible to upgrade, for additional fee
Passo dello Stelvio
One of the most epic climbs in Europe with a summit up at 2757 m. Stand at the top of the Pass and you are rewarded with the most amazing and heart-stopping view. See how the road below you winds its way around the mountains, no wonder it was voted as the greatest driving road in the world by the automobile show Top Gear
Sunday, September 16th Today we will do something that are many riders dream, climb the Passo dello Stelvio 2757 m. It is a climb of total 22 km.
Our Hotel is just 5 km from the start of the climb. On the top we stop for a very well deserved lunch. Where we have the lunch is also showers reserved, so you can change for some dry and warm clothes. It could be rain, snow or just great sunny on the ride.
Whatever weather it is, we got all extra clothing in the car and the car is just behind us.
After lunch and when you feel ready, we jump in the cars and drive down on the other side from what you just did climb and to your last accommodation, the luxury 5 star Rosa Alpina Hotel & Spa. It is approximately a 3 hours drive. The room included at Rosa Alpina is a junior suite including breakfast and it is always possible to upgrade, for additional fee.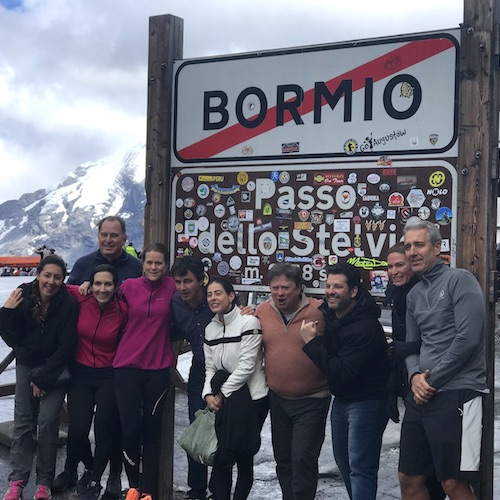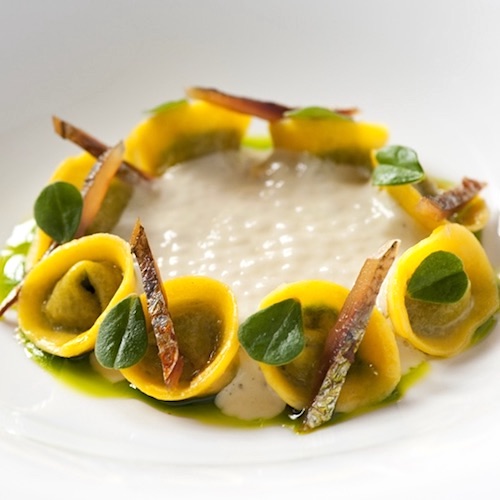 Luxurious accommodation
South Tyrol may only be a small region of Italy, near the Austrian border, but twenty-one of its restaurants have managed to achieve twenty-six Michelin stars. This makes it one of the most competitive culinary hotspots in Europe.
Monday, September 17th Today a recovery day is knocking on the door. Just relax and enjoy the beauty of the Dolomites and of each other.
Rosa Alpina's restaurant 'St Hubertus' has been awarded a 3rd Michelin star for 2018.
Chef Norbert Niederkofler selects only the highest quality ingredients found on his doorstep, from wild game to mountain herbs, to create dishes in 'a light Mediterranean way'. The food which St Hubertus is globally renowned, perfectly embodies nornert's dedication to nature and quality, achieve feats of culinary technique and innovation which are entirely respectful of the ingredients.
Included in your package is a real treat for all food lovers. You'll start with a gourmet aperitif in the library followed by a visit to the kitchens of the St Hubertus *** Michelin Restaurant and a personal meeting with the Chef. You'll then be treated to a stunning 6-course tasting menu. The dinner is booked Monday 17th.
Amazing Scenery
Late summer and the start of Autumn in particular is when the Dolomites are truly at their best.
Tuesday, September 18th The Dolomites, are also known as the 'Pale Mountains' and take their name from the carbonate rock dolomite. A number of long-distance footpaths called alte vie (high paths) traverse the Dolomites. These are numbered from 1 to 8. The trails take around a week to walk, and are served by numerous rifugi (huts). Today our local hiking guide will take to some of the hidden gems in the area, for day hike.
Wednesday, September 19th Our last day for the bike. What doesn't fit better then a Maratona dles Dolomites pre check. We will start with Passo Campolongo, that is also the start in the Maratona dles Dolomites. After a gentle downhill we stop for a quick bite like a espresso and apfelstrudel and then we continue towards Passo Falzarego and Passo Valparola.
That is also the climbs that Fausto Coppi defeated Gino Bartali in the 1946 Giro. After 51km, we will lunch at a typical Agriturismo in the area where WW1 was fought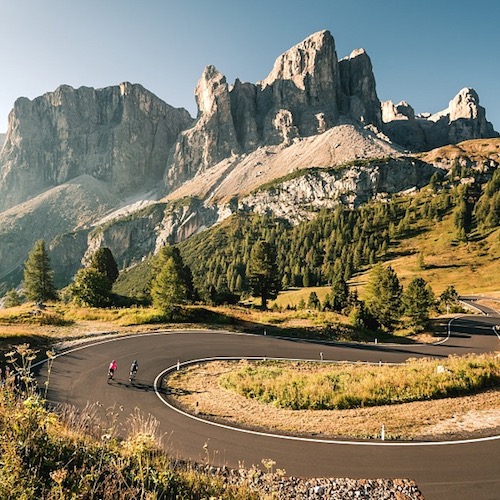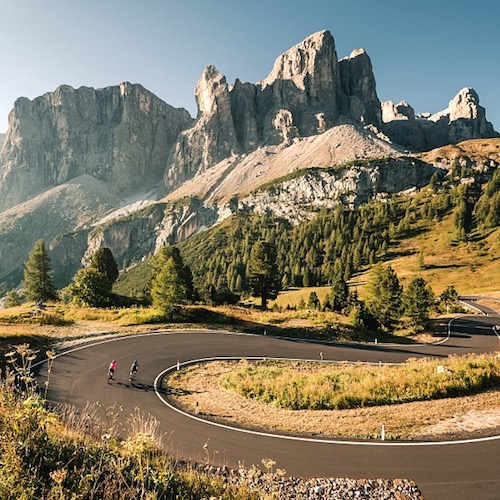 Thursday, September 20nd Enjoy your final Ladinian breakfast and, before we drive you back to Venice airport, take a moment to contemplate these glorious mountains and what you have accomplished these days together.
Normally if you choosed the direct flight from Sao Paulo, the return flight is in the evening. So it is no stress in the morning. Including in the price is the car service (2 Mercedes classe V) back to the airport. It is a 5 hours drive, mostly on straight highway. My suggestion is that we stop for lunch at the picturesque small town Sirmione right at Lake Garda. It is just a few minutes from the highway.
If you prefer to get another day in the Dolomites and we can also spend some hours on the bikes today. The helipad is just a few minutes away from your stay. The helicopter is not included in the price, but I would happy arrange it for you. And you can land directly at the Malpensa airport. It is a flight time of 90 minutes, with the helicopters
The total price for the package is €5250 pp*
* Nothing is booked yet, this is just an idea. So prices can still change, depending on the Hotels demand. And the price is based on a group minimum of 10. 
In the prices are not included rental bikes. Let me know who need some rental bikes and I will arrange that extra.
Also be aware, travel insurance is not included in our packages. Be sure that you have a good and appropriate insurance coverage for the holiday.
Suitable for Everyone
Whether you cycle for sport or just want to take your time, cycling in this region has to be the pinnacle of riding.